This post is brought to you in partnership with Rodan + Fields but all thoughts and opinions are my own.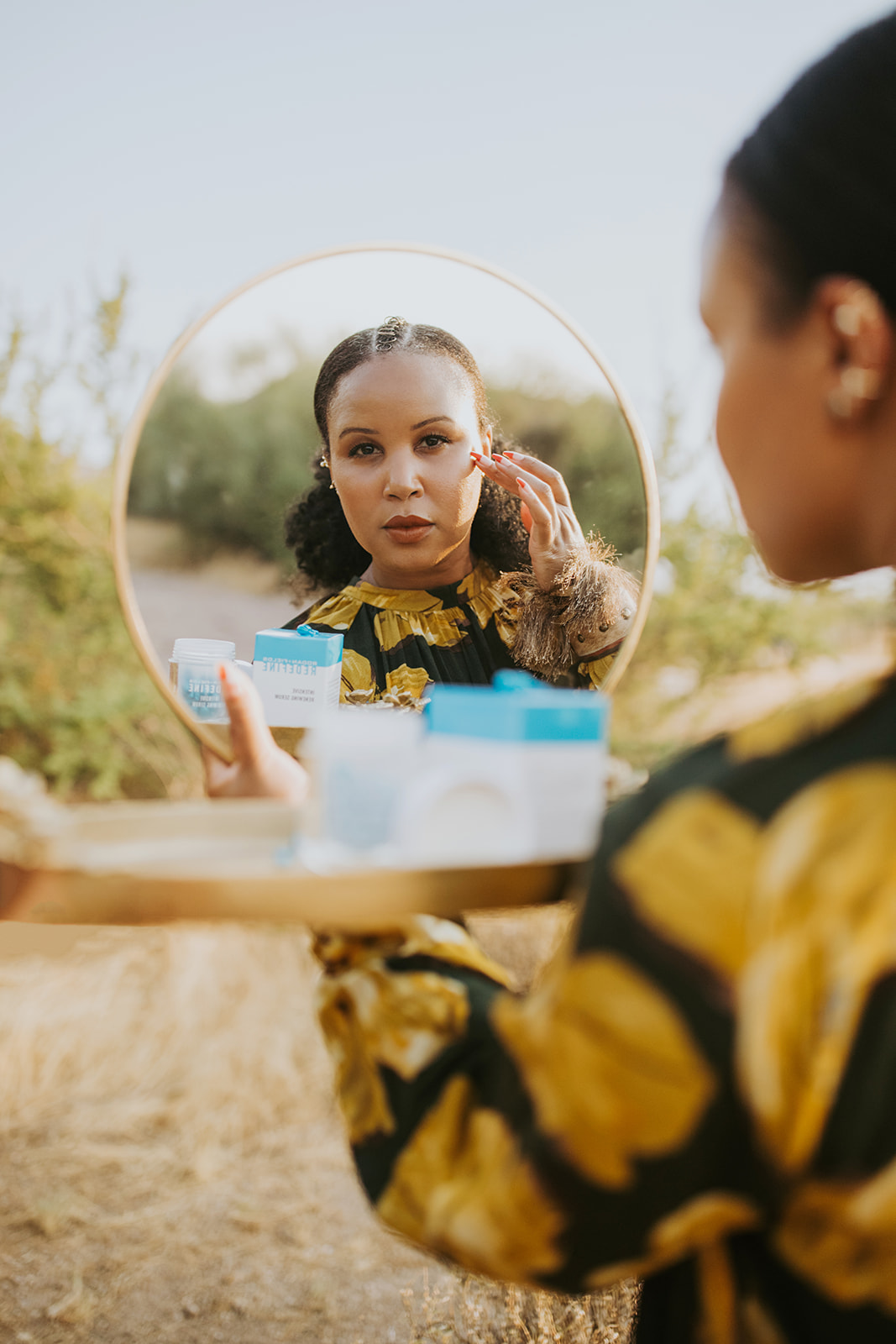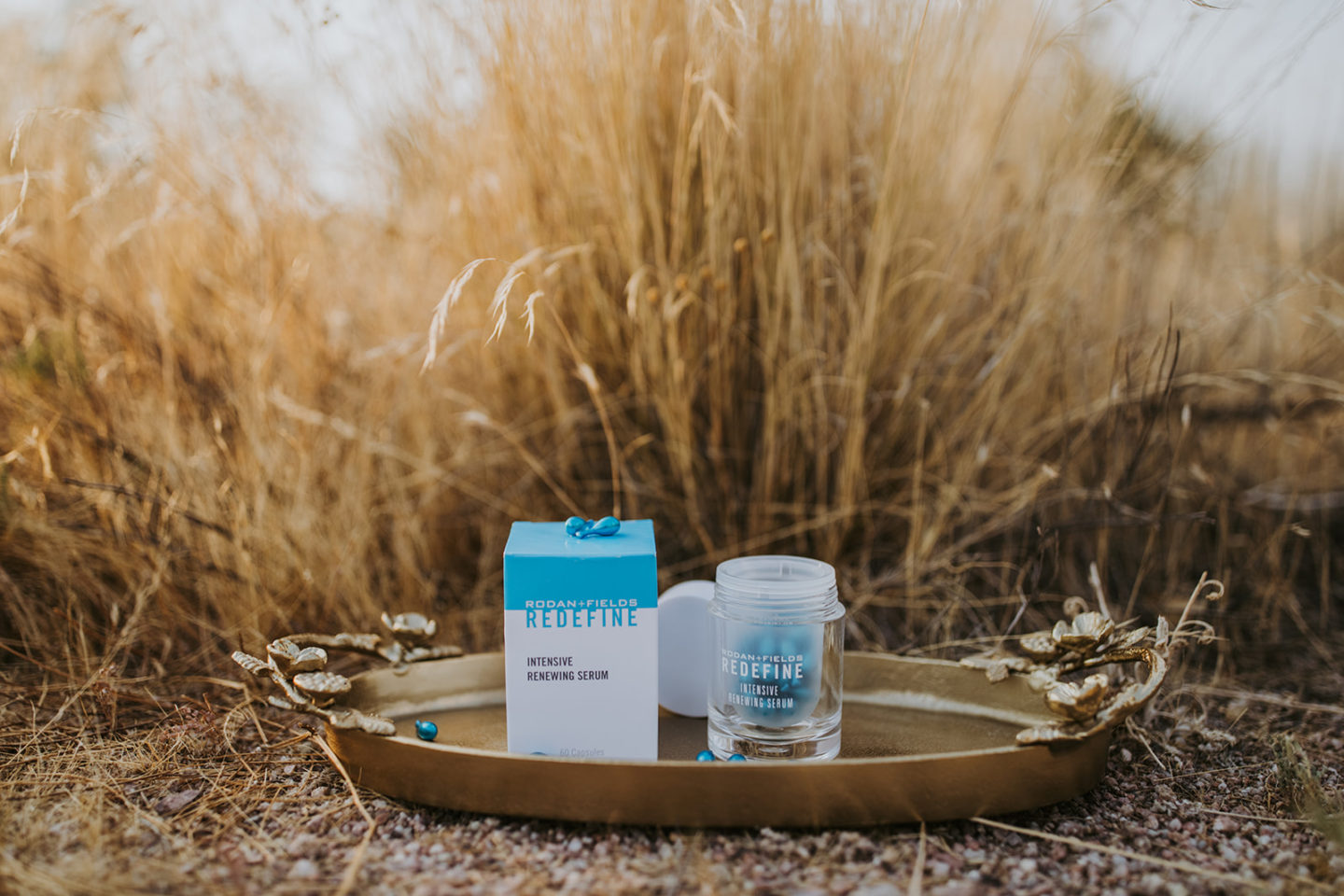 If you've been following me for a while, you know that skincare is taken very seriously around these parts. Some may even want to label me a skincare junkie and I may have to agree with them! There was a point in time where I contemplated becoming a dermatologist to help other people with their skincare concerns. Listen, y'all, the skincare struggle is real. Ever since puberty stormed into my life, my skin has been giving me the blues. I have been to my fair share of dermatology/aesthetician visits and regularly execute an extensive skincare routine to help my skin reach its optimal level of glow and fabulosity.

So, when Rodan + Fields reached out to have me try the REDEFINE Intensive Renewing Serum, you all know that I was up for the challenge. So, let's get into my current skin issues and how the REDEFINE Intensive Renewing Serum was able to come through and handle some skincare business!
Allow Me to Introduce My Current Skincare Concern: Maskne
As previously mentioned, I've struggled with my own skincare concerns since I was around 12 years old. I got hit hard with acne and hyperpigmentation. It was often a topic of conversation in high school amongst classmates and "friends." It was sort of my signature or calling card, if you will.

"Yeah, you know, Tiffany…with the acne."

Yep, that was me all the way through college until maybe a few years ago where I found some products and made lifestyle changes that worked well for my skin. So much so, that I'm sitting here now writing to you about skincare. Isn't life funny like that sometimes?

Of course, just as I'm finding my way around understanding my skin, here comes 2020 with it's COVID-19 and mask requirements! Now, don't get it twisted, I'm a mask wearing fool! In fact, I may keep it going once things return to normal. As a person who struggles to keep my facial expressions in check, the mask gives my face a place to hide and allows for some anonymity.

Given my history with skincare concerns, I should have already been able to assess that anything worn on the face for long periods of time was going to cause some irritation. But no, I was caught off guard like everyone else. A small part of me thought that since I was wearing less makeup (because makeup with a mask is a waste), that it would somehow protect me from all things maskne.

Well, I was most definitely wrong. If you're not familiar with the term maskne, it's acne and skin irritation that shows up in the area where the mask sits against the skin. It occurs when sweat, skin oils, and bacteria are trapped on the skin while wearing your mask, often leading to clogged pores.

Fun times, right? Here we are actively trying to do our part to prevent the spread of COVID-19 and now our skin is taking a beating because of it.
How I Integrated The REDEFINE Intensive Renewing Serum Into My Skincare Routine
It's pretty interesting that when I introduced the REDEFINE Intensive Renewing Serum into my current skincare routine, I wasn't looking for it to solve my maskne problem. After all, Rodan + Fields offers plenty of products specifically for acne. I just started using it and it was an unexpected benefit.

We all love a good surprise, don't we?

So, I have a pretty extensive skincare routine which I've adopted from the Korean 10-Step Program. I'll never not use it in some form because my skin has seen tremendous improvement from using this system which consists of:
Cleansing Oil
Water Based Cleanser
Exfoliation
Toner
Essence
Serum
Face Mask
Eye Cream
Moisturizer
Sunscreen
What I love about this routine is that you can literally find the products that work for your skin, just plug them into the routine and go! As you can see, step 6 is the face serum step. So, I introduced the REDEFINE Intensive Renewing Serum right after the Essence step and right before the Face mask or Eye Cream step. It is best used at night!

The face serum comes in a little pod that you twist off and it has the exact amount of serum required to cover your entire face. Be sure not to let the serum come into contact with the eye area.
Here's What It Said It Would Do
I like to call this the product promise.

On the side of the box, the REDEFINE Intensive Renewing Serum boasts that it is "a comprehensive skin revitalizing complex that supports skin's own renewal process for dramatically more youthful, healthy-looking skin."
Just a heads up, this serum is made with a proprietary next generation Retinoid technology, Retinal- MD. I think it's pretty important to be aware of this because certain retinals can wreak havoc on your skin, initially. So, when I started with this serum, I had my mind prepared for a little skin activity before I saw any good results.
Typically, I like to take at least 30 days to see how a new product reacts with my skin.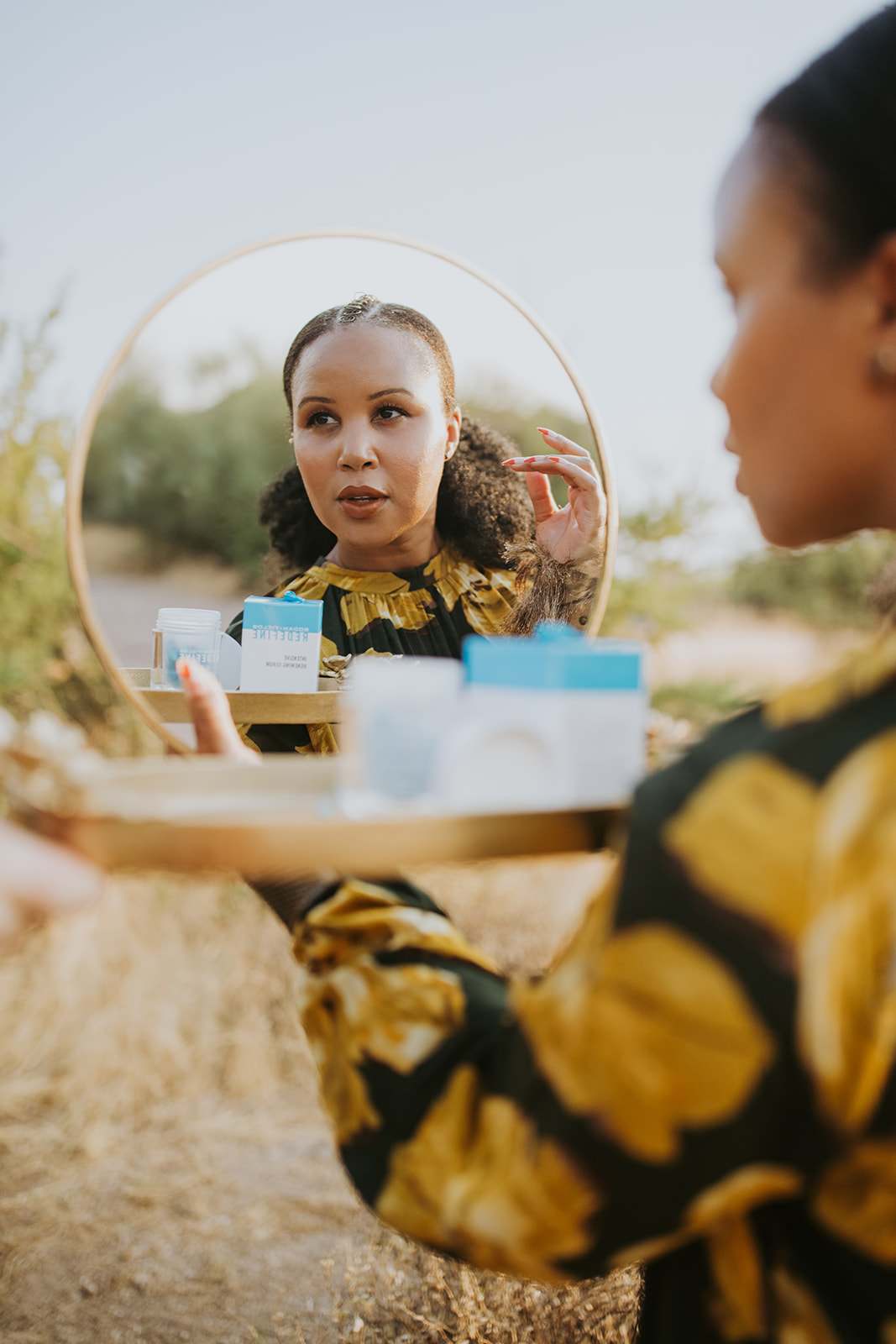 The Results!
As you can see from the before and after photos (taken 4 weeks apart), my skin has definitely seen improvement from using REDEFINE Intensive Renewing Serum. Not only is my maskne becoming a distant memory, I see improvement to the overall texture of my skin. My pores look smaller, my skin tone is more even, and my face not irritated from the product!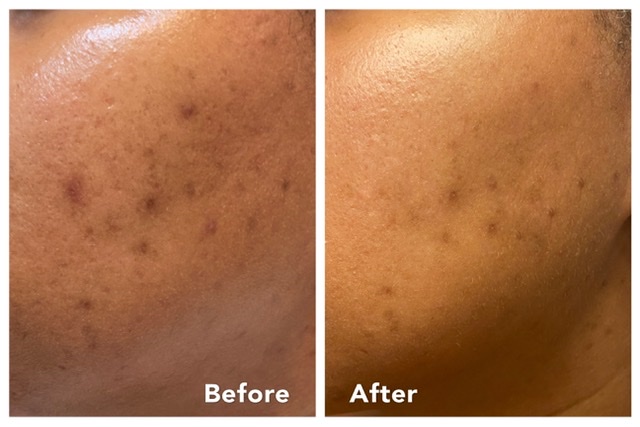 In addition to paying attention to your skincare routine, you, also, want to be sure that you're properly cleaning your skin each time after you wear your mask and especially at night. If you have a reusable mask, wash it after each use. If you've been using disposable masks, be sure to dispose of them after each use. I know that can create a lot of waste. So, be sure to pay a little bit more attention to how you plan your day so that you aim to use one mask per day.

Drop any questions about the REDEFINE Intensive Renewing Serum or maskne in the comments below.